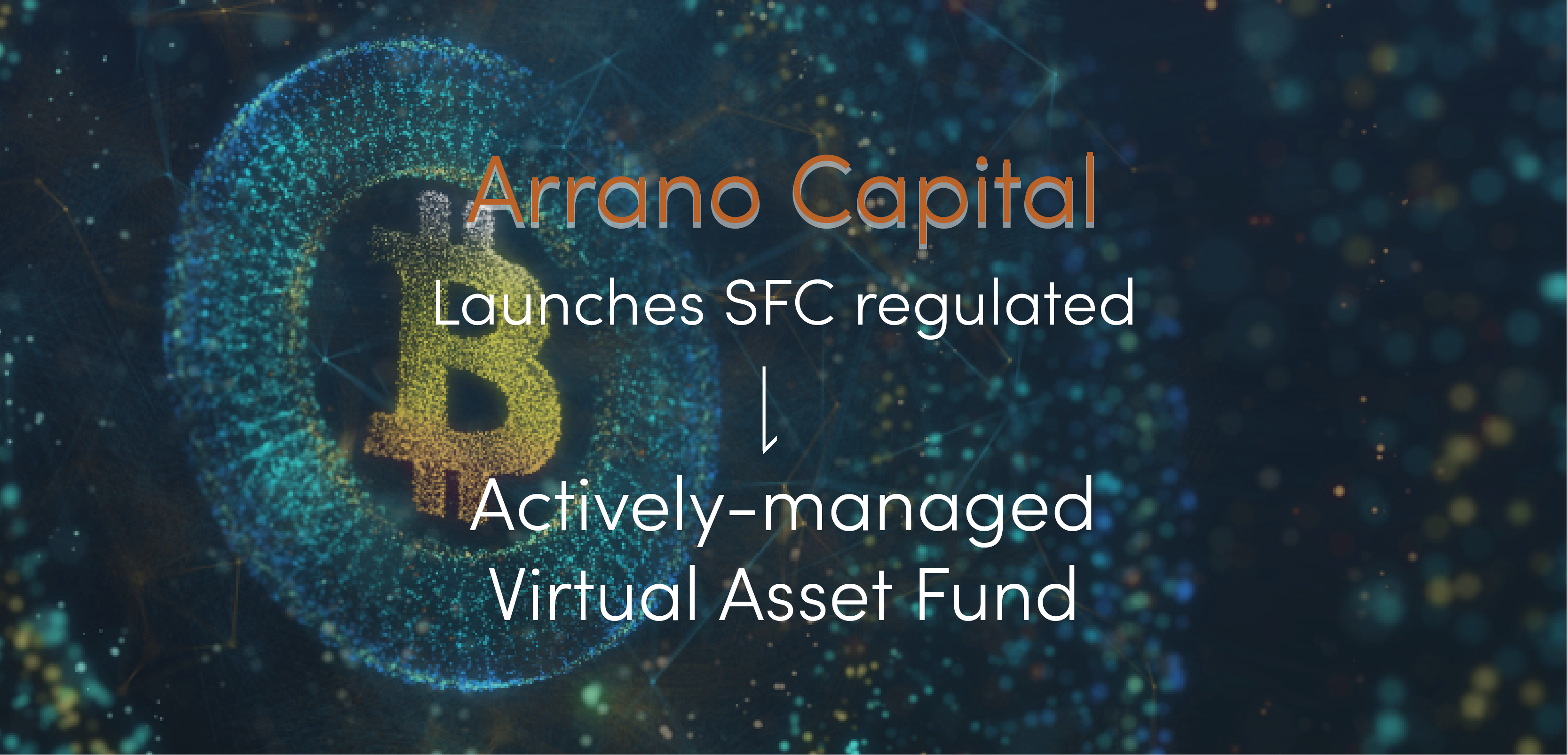 2021-04-14
Arrano Capital launches SFC regulated actively-managed virtual asset fund
Hong Kong (April 14, 2021) - Arrano Capital, its funds being advised/ managed by Venture Smart Asia Limited ("VSAL"), today announced the launch of Arrano Alpha Fund (and its single-legged feeder fund, together the "Fund"), Hong Kong's regulated actively-managed virtual asset fund. The Fund is structured as a "single-legged" master-feeder structure domiciled in the Cayman Islands and primarily invests in blockchain sector, employing an active event-driven and arbitrage strategy. It may also invest in derivatives and other securities linked to digital assets or cryptocurrencies.
VSAL, subsidiary of Venture Smart Financial Holdings Limited ("VSFG"), regulated entity in Hong Kong to receive a Type 9 asset management licence to manage a portfolio that invest in 10% or more of the gross asset value in virtual assets under the Securities and Futures Ordinance* in April 2020 ("Type 9 VA Licence"), acts as investment manager of the Fund, while Arrano Capital Management (HK) Limited acts as the technical adviser to the Fund. The Fund is the second virtual asset product advised/ managed in Hong Kong by VSAL, the first one being a passive Bitcoin fund launched in mid-2020.
"The objective of the fund is to generate consistent absolute returns while seeking to manage risk effectively and preserve capital in times of market uncertainty." said Arrano Capital Chief Investment Officer Avaneesh Acquilla. "This fund targets Professional Investors and institutions**."
The strategy that is being adopted by the fund is the culmination of experience managing cryptocurrency portfolios over the past three years and over a decade of equity long-short experience.
"The fund is designed from the ground up to meet the strict requirements of professional and institutional investors, using comprehensive security and risk management." said Acquilla. "From our observations since the launch of the Bitcoin fund in mid-2020, I believe there is enormous potential for both passive and active virtual asset products."
About Arrano Capital
Arrano Capital's goal is to develop the most innovative investment products while upholding the highest regulatory standards that meet the demands of professional investors seeking to gain access to virtual assets. For more details, please visit: arranocapital.com.
About Venture Smart Asia Limited
Venture Smart Asia Limited ("VSAL"), a company incorporated in Hong Kong, is a licensed corporation regulated by the SFC of Hong Kong for types 1 (dealing in securities), 4 (advising on securities) and 9 (asset management) regulated activities pursuant to the Securities and Futures Ordinance. VSAL is licensed by the SFC to manage virtual asset funds ("Type 9 VA Licence"). The funds are available to Professional Investors only (as defined under the Securities and Futures Ordinance). VSAL is a member of Venture Smart Financial Holdings Limited ("VSFG"). For more details, please visit: vsfg.com.
For press enquiries
Strategic Financial Relations Limited
Cindy Lung
Kay Lau
Cara Lau
2864 4867
2114 2239
2864 4890
cindy.lung@sprg.com.hk
kay.lau@sprg.com.hk
cara.lau@sprg.com.hk
*VSAL shall comply with the "Proforma Terms & Conditions for Licensed Corporations which Manage Portfolios that Invest in Virtual Assets" ("T&C") issued by the Securities and Futures Commission on 4 October 2019 and any amendments made to the T&C thereafter.
**Professional Investors are as defined under the Securities & Futures Ordinance. While for institutions, it is subject to the restrictions on distribution. The Shares may not be offered, sold, delivered, or otherwise transferred directly or indirectly in the United States.