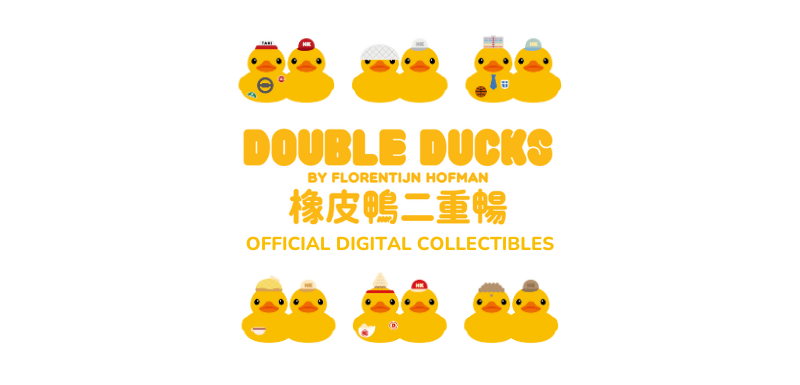 2023-06-12
VSFG Proudly Sponsors the "DOUBLE DUCKS" Project and Partners with DOTTED on the Official Digital Collectible Collection to Drive Web3 Mass Adoption
12 Jun 2023 (Hong Kong) – Venture Smart Financial Holdings Limited ("VSFG"), the first SFC-approved virtual asset manager in Hong Kong is delighted to announce its sponsorship of the "DOUBLE DUCKS by Florentijn Hofman" ("DOUBLE DUCKS") project, the large-scale public art exhibition organized by local creative brand AllRightsReserved (ARR). Partnering with its Web3 and NFT partner, DOTTED, the mobile-first Web3 platform backed by Animoca Brands, VSFG will collaborate on the distribution of the exclusive "DOUBLE DUCKS with Hong Kong Signature Icons" digital collectibles to promote happiness in Hong Kong this summer and drive the mass adoption of virtual assets in the city. 
The "DOUBLE DUCKS with Hong Kong Signature Icons" series was unveiled to the public earlier this month, captivating both local citizens and tourists with its unique charm. The project's organizer, ARR, recognised the tremendous popularity of the series and subsequently transformed the motifs into a collection of blockchain-powered official digital collectible collection as a free giveaway to the public to further promote intellectual property in the era of Web3 and widespread ownership. As the proud sponsor of the "DOUBLE DUCKS" project, VSFG is excited to collaborate with its Web3 & NFT partner, DOTTED, in distributing these official digital collectibles. 
Limited Editions of six digital artworks showcasing iconic Hong Kong elements, such as the city's taxis, pineapple bun, Choi Hung Estate, the Space Museum, the Big Buddha and the Bun Festival, will be made available to the public through DOTTED. Starting from now until July 12, 2023, participants can register on DOTTED's "DUCKble The Joy, DUCKble The Fun" campaign website for a chance to win an exclusive DOUBLE DUCKS digital collectible. For more information and details on how to participate, please visit DOTTED's campaign website at: https://doubleducks.dttd.io 
"As a company rooted in Hong Kong and dedicated to fostering its growth as a global virtual asset hub, we are thrilled to lend our support to the "DOUBLE DUCKS" project. Our aim is to not only spread joy within Hong Kong and beyond, but also to promote virtual asset to a wider audience," said Lawrence Chu, Chairman of VSFG. "By distributing the "DOUBLE DUCKS" digital collectibles, we hope to offer the masses a glimpse into the world of virtual assets and help them take their first step into this exciting space."
Bosco Lin, Co-Founder and CEO of DOTTED, also expressed excitement about the collaboration, "We're honored to partner with VSFG in this project that bridges the realms of Web2 and Web3. At DOTTED, our mission is to champion Web3 and facilitate the widespread adoption of virtual assets. Our involvement in this project serves as a testament to our dedication in achieving this goal."
-- End --
About VSFG
Venture Smart Financial Holdings Limited (VSFG) is a financial services platform in Hong Kong.
VSFG strives to integrate traditional wealth management with the future of finance.  In 2020, Venture Smart Asia Limited, subsidiary of VSFG, became the first virtual asset manager in Hong Kong approved by HKSFC to manage portfolios that may invest up to 100% of assets in crypto assets.  VSFG is dedicated to the research and development of products and services that can integrate traditional and virtual assets under a compliant regulatory framework, helping individuals and institutions to allocate their assets in an orderly manner in both traditional and virtual worlds. In addition, VSFG and its affiliated companies are committed to proactively developing and delivering relevant services to promote the development of both family office businesses and virtual assets, shoring up Hong Kong's position as a global financial centre.  For further information on VSFG, please visit www.vsfg.com.
About DOTTED

DOTTED is simplifying digital ownership and empowering Web3, that is built and based out of Hong Kong. We provide an NFT-first visual experience that is tailored to your phone. Our suite of services and tools help crypto natives, newbies, businesses and anyone with an internet connection manage all their digital assets in a single place. For more information, visit https://www.dttd.io and our Twitter @dttd_nft

The DTTD App is available to the public to download from the Apple App Store or Google Play Store here: https://bit.ly/3BqA740
About Florentijn Hofman 

https://florentijnhofman.com/ 
Dutch artist Florentijn Hofman (b. 1977) aims to challenge the audience's comfortableness by recasting the simple perspective on quotidian objects. The familiarity and positivity from the artwork allows the public to explore art in an affable way. Subsequently he crafts these into clear and iconic images; oddly oversize "toy" that alienate and unsettle through their sheer size and use of materials, such as Rubber Duck (2007): an inflatable giant-sized representation of a rubber duck bath-toy that has been seen in harbou rs across the world, from France to Brazil, New Zealand to Hong Kong, and from Pittsburgh to even Santiago in Chile. They are immediately identifiable and have an instant appeal. 
The attention Hofman gives to his surroundings lets him examine the possibility of material and explore the essence and beauty of form and shape. He expands his imagination by merging the local culture into his artwork and evoking the missing interaction. 
Social engagement and intercommunication are key elements of Hofman's creation. Hofman generates an encounter for the audience to his universal aesthetic by sharing his drive for sculpture in public space. The joy he creates allow audiences to abandon the idea of races and religions and enter conversations with the artworks. By enlarging the creation Hofman aims to reflect the equability and insignificance of oneself. 
Hofman is best known for his playful gigantic urban installations like the giant rubber duck, the massive rabbit and many more. His works have been exhibited in more than 20 locations over the world and have become one of the most recognizable forms of urban art to date. The Dutch artist has taken his monumental Rubber Duck on a world tour and visited Hong Kong in 2013 - curated by the creative brand AllRightsReserved (ARR). For the 10th anniversary, his floating pop-art icon is returning as two enormous 'Double Ducks', reunite with citizens and tourists at the Victoria Harbour. 
Hofman attended the Academy of Fine Arts in Kampen, The Netherlands in 2000; then followed his MFA from the Kunsthochschule Weissensee in Berlin, Germany. 
About AllRightsReserved

Founded in 2003, AllRightsReserved (ARR) is a creative brand consistently reaching out to wherever creativity occurs. Being a vanguard of the art and cultural scene, ARR pushes the boundaries of art and challenges the confines of the medium. 
World-renowned artist KAWS has been an important partner of ARR for over a decade. Shortly after they joined forces in 2010, the duo generated tremendous excitement and worldwide acclaim for works that transcend creativity and expectation. The ongoing world tour of KAWS:HOLIDAY has visited Seoul, Hong Kong, Tokyo, Bristol, Singapore, Changbai Mountain, Melbourne, and even Outer Space. 
Over the years, ARR has embellished public landscapes by curating various projects ranging from art installations, art projects, and exhibitions to partnering with a mélange of leading collaborators and artists from diverse backgrounds – they include the cities' most recognisable exhibition with Yayoi Kusama "DOTS OBSESSION - SOUL OF PUMPKIN" in 2007, to four permanent colossal outdoor installations in China; global art exhibitions with contemporary artists Yusuke Hanai, Joan Cornellà in Shanghai and Japan to Yu Nagaba and Verdy in Hong Kong; large-scale immersive art projects of "Rubber Duck Project - HK Tour," "1600+ Pandas World Tour" to "Light Rose Garden HK." ARR continues to articulate artists' stories in a never-ending continuum of creativity. 
In addition, ARR has designed and curated exclusive marketing campaigns for numerous renowned international brands, including luxury car brand Rolls-Royce, streaming platform Netflix, and beloved characters like Doraemon and Snoopy. Together with the brands, ARR expands the limits of art and sets the pace for creative trends. 
ARR offers a forward hybrid e-commerce and tangible marketplace experience to its consumers, DDT Store, which positions the creative brand as the pre-eminent contemporary art destination. DDT Store offers extraordinary pieces of pristine quality, from limited edition works in print and  sculpture forms to unique art pieces with meticulous detailing. It presents the results of meticulously studied collaborations, bringing to every art lover's home a slice of the energy and vibrancy fuelling creative lifestyles everywhere. 
ARR constantly explores the definition of art and remains committed to fostering the work. In honour of ARR's 20th Anniversary, "Beyond Creatorhood," a range of exclusive collaborations partnering up with long-time artists and friends will be rolled out, marking the 20-year journey of creation. 
Media Contact
VSFG 
Strategic Financial Relations Limited

Cindy Lung / Brigid Lee / Cynthia Ng 
sprg_vsfg@sprg.com.hk